Image description for Mournful / Contemplative Full-Page Border With Statues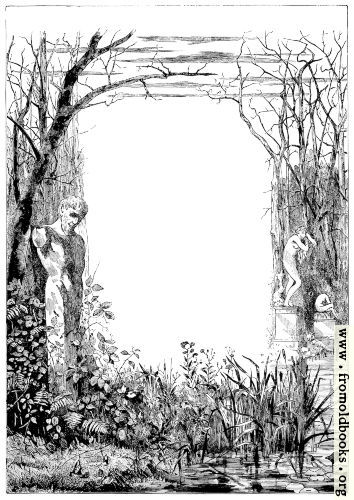 This is a full-page black and white picture that has a large plain white space in the middle for the insertion of text.
The scene suggests a sculture garden overgrown with trees. On the left is a tall plinth surmounted by a man's head and chest, with the arms broken off. There's leafy undergrowth in front of the statue and a tree without leaves leans overhead.
On the right are two smaller statues on plinths that look a bit like tombs; a naked woman stands with one arm pulled back as if she is about to throw something, perhaps with a dolphin behind her on the same plinth. behind her and to her right is a more distand statue of a seated naked figure; we cannot tell if it is male of female.
There are more leafless trees on the right, and from the centre foreground to the bottom-right corner and then going back to the two statues on the right is a lilly pond or perhaps a slow stream.
There are clouds in the sky at the top of the picture.
The overall effect is a little mournful, but in fact the poem celebrates the secluded grotto. I think the mournfulness is because today we are more used to brightly coloured pictures being associated with happiness.
Originally the border contained the poem "Les Rayons et les Ombres," which means roughly "the shadows and the rays of light".