The Art of Illuminating As Practised in Europe from the Earliest Times (page 4/13)


Decorative initial letter "E" from 11th century.

A letter E in a late uncial tradition, complete with drolleries, or humorous creatures, in the vines in the counters, the spaces nside the letter. This E is in red, with a peach light orange filling, on a blue, red and green background. [more...]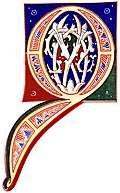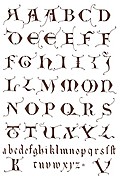 Almost a complete gothic (blackletter or old english) alphabet; I have supplied some rather grotesque monstrosities for "K" and "V" at the foot of the page. The description in the book is a little confusing, because the scroll-work letters are on following plates; these on this plate, for the [...] [more...]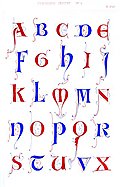 Note: If you got here from a search engine and don't see what you were looking for, it might have moved onto a different page within this gallery.
---