Old England: A Pictorial Museum (page 43/52)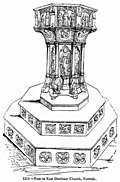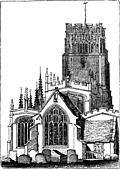 1314.—Northleach church, Gloucestershire

Like many English churches, that at Northleach has been modified over the years. Although part of the aisle dates from the 12th century, most of the church is from the 14th and 15th centuries. [more...]

An English village church, with an unusually short tower. Probably the building shown here dates from the fourteenth and fifteenth cenuries; it was extensively restored in the 1890s, some fifty or more years after this engraving was published, and looks a little different today. Or maybe I have not found the right place. Outside the church, in the [...] [more...]

1372.—Caxton. With Paper Marks.

"The famous mercer, William Caxton (Fig. 1372), came back to England with those few,and simple, and rude implements which had cost him so much wealth, labour, time, and anxiety to obtain; and then, from the precincts of Westminster Abbey, speedily issued the art of printing. And certainly it is an extraordinary fact, that the power that wass to destroy [...] [more...]


A "butt" is an old name for a target used for longbow archery practice; the place where people practice to fire arrows is called an archery butts. The targets were usually placed on mounds of earth. [more...]


Whitsunday, or Whitsun, is the seventh Sunday after Easter, and is a time for a holiday. The Morris-dance was originally a Moorish dance. These days it involves men with white socks (always a bad start) and bells on their wrists and ankles, and lots of beer. There are also Morris dances on May Day. [more...]
Note: If you got here from a search engine and don't see what you were looking for, it might have moved onto a different page within this gallery.
---