Old England: A Pictorial Museum (page 36/52)

841.—Prudhoe Castle, Northumberland

The ruins date from the 12th Century; modern photographs indicate that it's in slightly better shape than this picture suggests. Prudhoe is about 10 miles West of Newcastle upon Tyne. [more...]

Jean Froissart was a historian who lived from 1337 to 1410 (roughly). [more...]

"They sent to Edward; who, however, would listen to no terms but unconditional submission. The noble Sir Walter Manny, however, spoke for them; and, at last, mercy was promised to all but six of the chief burgesses, who were to come to him bareheaded, barefooted, with ropes about their necks, and the [...] [more...]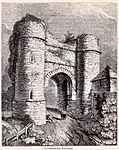 Built in the late 13th Century. It still has a road running through the arch today.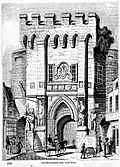 915.—Southampton Gate: North Front.

A castellated (fortified) tower with a cout of arms, various statues, and an arched entrance; a horse and cart are going through, and a man wearing a top hat pushes a barrow. [more...]
Note: If you got here from a search engine and don't see what you were looking for, it might have moved onto a different page within this gallery.
---