Old England: A Pictorial Museum (page 29/52)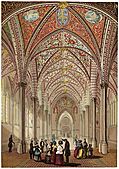 Interior of the Temple Church.

The Temple Church was built by (or for) the Knights Templar in London in the 12th Century. Some time after the Knights Templar were destroyed (in 1307) the temple was given by Edward II to the Knights Hospitaller, who in turn rented it out to the Inner Temple and Middle Temple, [...] [more...]

416.—Warwick Castle, Guy's Tower

"It is a rare consolation for the lover of his country's monuments, to turn from castles made into prisons, and abbeys into stables, to such a glorious relic of 'Old England' as Warwick Castle. Who can forget the first sight of that beautiful pile, little touched by time, not vulgarized by ignorance? (Fig. 417). As he enters the portal through which [...] [more...]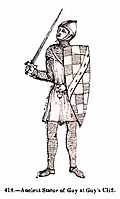 Dates from the 12th Century but extensvely modified in the 14th and 15th Centuries. Ruined.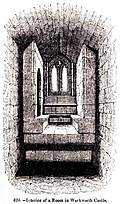 Interior of a Room in Warkworth Castle.
Ludlow was the capital of Wales in the 16th Century, and this 12th Century (or earlier) castle was the centre for administration. Today it is in ruins, having declined since the engraving was [...] [more...]

Goodrich stands in the Wye Valley (see History of Wales), and has a 12th century central keep about 8 metres (25') on a side. It's actually in much better condition than this romantic engraving might lead one to think! [more...]

423.—Clifford's Tower, and Entrance to York Castle.

Clifford's Tower is the site of a 12th century massacre of 100 or so Jews probably as a result of the anti-semitic teaching of the Roman Catholic Church. It is the circular structure on the left of the picture, and was rebuilt in stone some [...] [more...]
Note: If you got here from a search engine and don't see what you were looking for, it might have moved onto a different page within this gallery.
---