Old England: A Pictorial Museum (page 27/52)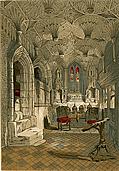 This beautiful engraving, printed in colour using multiple plates, shows the stone ceiling, a tiled floor, an arched entrance-way, a stained-glass window, a [...] [more...]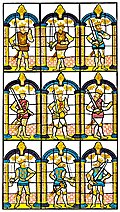 The knights arrive on horseback over the bridge and into the castle walls. Carlisle castle was built in 1090 on the site of an older Roman fortress. [more...]

Decorative Cap "T" With Flowers

A floriated initial letter capital "T" used as a 14-line drop cap at the start of a chapter. Drop capitals should normally align exactly with the the baseline of the nth line of text, but this design does not need exact alignment. It features flowers such as bluebells and pansies. [more...]

381.—St. Mary's Chapel, Hastings Cliff Castle.

Hastings Castle was built by William the Conqueror in 1070 or so, together with the chapel of St. Mary. Coastal erosion, and, later, French attacks, meant there wasn't much left by 1400. After the Dissolution of the Monasteries the land became used for farming. It was excavated in the 1820s, and further damaged by bomb in the Second World War. It [...] [more...]

A dramatic view of Alnwick Castle in a storm, with its towers, castle walls and battlements standing high on the hillside. The wood engraving is signed J. W. Whimper; this is the same person as J. W. Whymper. Josiah Wood Whymper was a painter, wood engraver and etcher, and used both [...]Edward Whymper, is also represented on this site, but not in this book, which was printed when Edward was four years old. [more...]

383.—Rock of Bamborough with Castle.

There has been a settlement here for at Bamborough for hundreds of years; a castle was mentioned here in the year 547, but was probably over 100 years old even then. That castle was destroyed by Vikings in the 10th century but it was [...] [more...]

389.—Ruins of reading Abbey in 1721.

Reading Abbey was founded in 1121 by King Henry I; it became very wealthy, no doubt in part because of the corruption that was endemic to the Roman Catholic Church. At the Dissolution of the Monasteries in 1539 the Abbot refused to accept the authority of the King, and was executed; the property thus passed to the Crown and was used as a royal [...] [more...]
Note: If you got here from a search engine and don't see what you were looking for, it might have moved onto a different page within this gallery.
---