Old England: A Pictorial Museum (page 26/52)

285.—Saxon Cloaks, Plain and Embroidered Tunics, and Shoes. (Cotton MS.)

The Norman historians record their excellence with the needle, and their skill in embroidery. Minute descriptions of dress are not amongst the most amusing of reading, although they are highly valuable to the systematic chronicler of manners. It may be sufficient for us to point attention, first to the cloaks, the plain and embroidered tunics, and [...] [more...]

The practice of bandaging or cross-gartering the hose is indicated in many Anglo-Saxon drawings (Figs. 284, 288). Secondly, the ladies wore a long and ample garment with loose sleeves (the gunna, whence our gown), over a closer-fitting one, which had tight sleeves reaching to the wrist; over these a mantle was worn by the superior classes, and a sort [...] [more...]

289.—Coffin and Grave Clothes.

An Anglo-saxon drawing of the raising of Lazarus from the dead (an early account of a zombie in the Bible?), showing the Saxon funeral clothes and coffin. One of the two figures on the left is Jesus. [more...]

General view of Ruins, Church, etc. [more...]

This ornate border is based on Mediaeval and Sixteenth Century designs; strictly speaking it is pre-Victorian. It features stylized roses. There is also [...]here. [more...]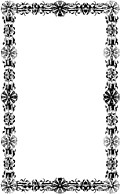 Note: If you got here from a search engine and don't see what you were looking for, it might have moved onto a different page within this gallery.
---