Art in England During the Elizabethan and Stuart Periods (page 3/3)

A rain-head, collecting water from gutters and divirting it to a down-pipe, elaorately carved in the Gothic style.


A half-timbered Elizabethan manor-house with tiled roof is here seen from the garden. Notice the cat sitting in the porch! [more...]

This decorative ornament was used after the text at the end of a chapter. Such printing ornaments used to be fairly common. This one has a has a central area that could be used as a cartouch, that is, a place to put writing or numbers or a design. There are also birds' heads, [...] [more...]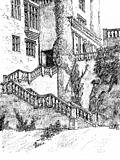 Map of "New France" (Canada). From the engraving by Benjamin Wright (circa 1608). [more...]
Note: If you got here from a search engine and don't see what you were looking for, it might have moved onto a different page within this gallery.
---