New Specimen of Cast-Metal Ornaments and Wood Types (page 3/4)

A gentleman and a woman, the man with a formal jacket with long tails and the woman with a long dress and a broad-brimmed hat or bonnet walk through bushes and trees, arm in arm. [more...]

This antique engraving of a swallowtail butterfly—the English swallowtail, sometimes called in America the Old World Swallowtail Butterfly, is attributed to Thomas Bewick. Notice how the engraving becomes speckled with white towards the left, creating a graduated shading effect and helping the butterfly appear three-dimensional; a high resolution [...] [more...]

885.—Tightrope artist with table and candles and dwarf.

On a styilized stage a woman sits on a tightrope with a three-legged table holding two lit candles and other items; she is holding two cups and perhaps will juggle. She wears a feather i her cap and is smiling. Beneath her a man, perhaps a dwarf, holds a large hat is if to catch something dropped, and there is also a wooden chair on the stage. The man [...] [more...]

Five men are skating on a frozen pond at night, leaving trails in the ice. They smile. They are wearing top hats and eighteenth-century dress. One of them carries a cane. In the background, wintry trees. [more...]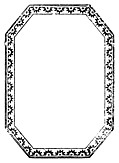 This image was almost certainly made to have text inserted in the central black rectangle. If you do this, you should probably first fill the rectangle with solid black. [more...]

This wood-engraving of a dog might be attributed to Thomas Bewick; the technique and style make it possible, it seems to me, but it's far from certain. [more...]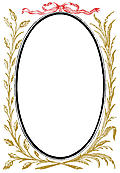 893.—Border with Freemasonry Symbols.

This border, frame, or cartouche, was on an engraved block for sale in the 1800s; it shows the sun and moon, an eye with rays coming out of it (Illuminati?), the set-square (on the right-hand pillar) of and dividers (left) of the Masons, and a bee hive and bees (out of strength came forth sweetness, perhaps); the [...] [more...]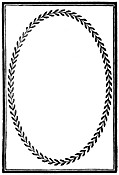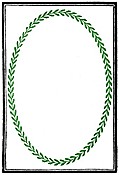 Wood-engraving of a zebra, with high-contrast stripes. This woodcut was attributed to Thomas Bewick in the book, and may well have come from him, judging by the high quality, the style, and the subject. [more...]
Note: If you got here from a search engine and don't see what you were looking for, it might have moved onto a different page within this gallery.
---