Letters & Lettering: A Treatise With 200 Examples (page 5/8)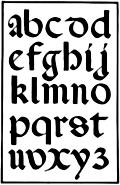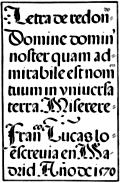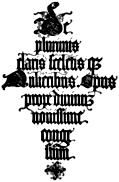 147.—Italian Blackletter Title-Page. Jacopus Foresti, 1497.

"The examples of old lettering reproduced in figures 147, 148 and 149, together with the drawings by Mr. Goodhue, will indicate the proper spacing of Blackletter; but in most of the pages here devoted to illustrating the individual forms the letters have been spaced too wide for their proper effect [...] [more...]

The penman (Frank Chouteau Brown) made this calligraphic flourish with a broad-edged pen, and then turned it into an engraving for printing. [more...]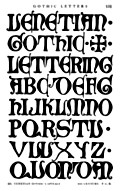 161.—Venetian Gothic Capitals. 15th Century.

Any of the minu­scule forms of Blackletter which have been illus­trated may be used with the Gothic capitals of figures 165 – 5, 166, 177, 179, 185, 188-9; or with such Un­cial capitals as are illustrated in 155 to 162; care being taken, of course, that these capitals are made to agree in style and weight with the small let­ters chosen. [...] [more...]

167.—German Gothic Initials [A – H].

German Fraktur blackletter, with an insane amount of swirls! Letters "A" – "H" are in this figure. It was too large for a useful download here, although I have made the individual letters [...] [more...]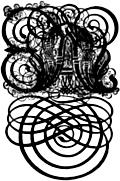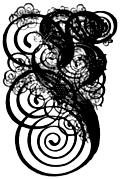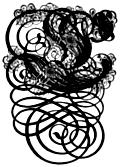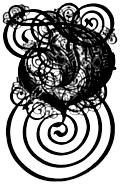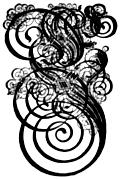 Note: If you got here from a search engine and don't see what you were looking for, it might have moved onto a different page within this gallery.
---